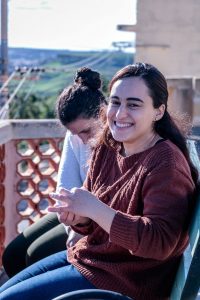 Caroline Mercieca has been a member of YouthReach coreteam since 2018, with her latest role being that of a group administrator. She has recently decided to take new ventures in life and will thus step down from her role as a coreteam member, however will still be helping out with meetings and activities.
Having studied psychology, Caroline was the brains behind many discussions, the heart behind so many sharing sessions, the ears behind many disclosures and the hands behind so many meetings. She is a woman who holds strong values, and who is always ready to share and speak up her mind.
She has seen YouthReach grow and change through the years and she will surely be missed by our youths, for she was not only approachable but very easy to talk to and confide in.
Caroline has meant so much to this group. She truly gave us a new perspective on things with her fresh and insightful stance in life. Her smile and pure heart inspired us all on a weekly basis and will surely continue to do so for she has left deep footprints in all of our hearts and memories.
YouthReach shall be eternally grateful for your dedication and commitment, and rest assured that what you have done will keep on heightening within our youths. Thank you dearest Caroline, and good luck, for you truly deserve nothing but the very best.