Running can be done by many, but few choose to dust off their running shoes and do it. Why do they love to do it so much? Why run on the heated asphalt for hours alone, whatever the season or weather conditions? Why do they strain their bodies so much? Why the sacrifice and long hours of training? But if we had to stop and think about the whirlwind of emotions a 'simple' race entails, maybe we can learn to appreciate the reason why they do it.
The same goes for youth groups such as ours. Why do we choose to be part of it in 2022? Why do we choose to stay in it? Why do we choose to keep pushing when times get tough? What keeps us from taking the easy road out? What is it that gives us such indefinable feelings?
All of these questions can probably be answered by our beloved Joanne Muscat, a YouthReach member since 2010, a coreteam member since 2013 and YouthReach President since 2016.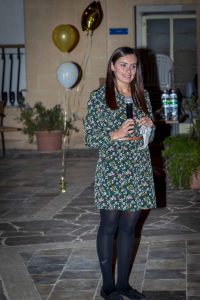 Why? Because being a runner herself, Joanne has shown us all what it means to be a true YouthReach member. When Joanne joined YouthReach as a member herself, she knew only a few people. It wasn't long after that she integrated well within the group and a few years later was asked to form part of the coreteam. Thankfully she accepted the offer and has since then served YouthReach coreteam for many years, where she had many different roles, the latest and longest being that of President.
She has seen YouthReach grow bigger and better, and has witnessed some of the greatest changes the group had to endure throughout the years. She led the team through many important decisions, which have shaped our group in the family that it is today.
Think of that runner who has been training and preparing for months now. Think of them at that start line. The anticipation is up the roof. Their heart is racing. Their palms are sweating. Then ready, set, go! The adrenaline is pushing them. They're doing well, and are very hopeful of the result. But exhaustion kicks in. They're being surpassed. Their knees feel weak. Their lungs are drowning. Their brains are giving up on them. They're disheartened. Yet wait, they're pushing forward to make it to the finish line. "Come on, last push" they hear from a distance. The finish line is near. Their friend has fallen to the ground a few metres away from the finish line. They clutch at the last straw of adrenaline they have, and help them up and carry them to the finish line. They did it, they finished the race!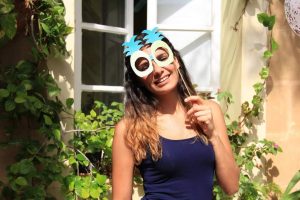 This might simply be the description of a race. But it depicts what Joanne has meant to this group. Like that runner, Joanne has shown sacrifice and dedication in her work. Like that runner, she was hopeful and had a positive outlook for the group's journey. Like that runner, at times she felt like giving up. Like that runner, she showed perseverance when everyone else seemed to be giving up. Like that runner, she got exhausted at a point.
But like that runner, she kept on track. She kept us focused and reminded us of the aims. She was selfless and picked up anyone who had fallen to the ground along the way, and with her perspective and positivity encouraged others to carry on doing what she was doing. The satisfaction she got from being a part of this group, was truly dedicated to each member of YouthReach.
Joanne has always had a very busy schedule, yet always managed to balance her personal life with that of YouthReach. This year along with all of that, Joanne is also getting married! Life takes us to places we never imagined and is always ready to give us new marathons to participate in. In fact, Joanne decided to step down from Youthreach whilst exploring this new chapter in her life.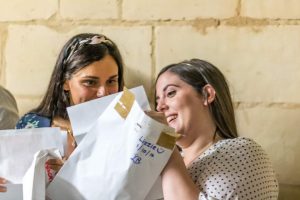 We couldn't be happier for her! Yet she will be awfully missed by all. Goodbyes are never easy, but the legacy you've left within YouthReach, will forever be present. May you keep our motto wherever you run to: Be true. Be you. Pursue; and may you inspire anyone who crosses paths with you.
With that said, YouthReach is happy to announce that Elizabeth Camilleri who is currently the group secretary, will follow in Joanne's footsteps and take the role of YouthReach President. Liz has worked besides Joanne for many years and has also been crucial to YouthReach in the past years.
Joanne, good luck to you and Claude! May God bless you always. YouthReach is eternally grateful.