What a month! A celebration of football that connects the world together. But have you noticed any moments where faith took priority during this World Cup? Of course, different continents and countries lead to a diversity of religions. Whether on TVs during airtime, or on social media and news, for the gossip between games, faith has been widely mentioned during this World Cup. Of course, the most obvious ones are the sign of the cross, or a prayer after a player scores a goal, or before leaving the pitch, but here are some other facts: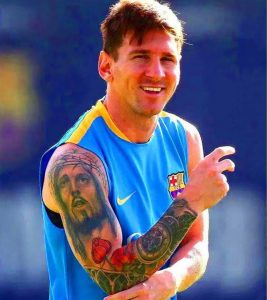 Tunisian soccer team recited the Quran together in their changing room, whilst Mexico team celebrated mass before the game against Germany.
After the game between Panama and Belgium, a Catholic and Evangelical from two opposing teams, knelt down in prayer next to each other.
The World Cup 2018 logo was inspired by the Russian tradition of icon painting.
Sometimes we may feel a bit uncomfortable speaking about faith at work, school or with our friends. Is it not cool anymore? Some Catholic footballers speak openly about their faith and are not ashamed to practice it even during big events like the World Cup, where millions of people would be watching. They use different ways and means to open up about their faith.
Lionel Messi, who plays with Argentina is Catholic. A tattoo of Jesus's face with a crown of thrones sits upon his right arm, along with a rose inspired by the Sagrada Familia church in Barcelona.
Alisson Becker, who was one of the goalkeepers for Brazil during this World Cup, opened up freely about his faith in a message he published on social media last May,
Very happy to receive the opportunity to defend my country in a world cup! Realization of a dream!!!!…Glory to God!!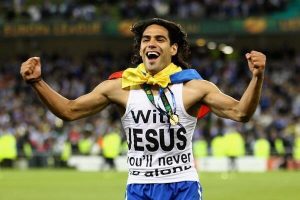 Radamel Falcao, who plays with Colombia, also has no problem in showing what he believes in. He normally puts his t-shirt up after scoring a goal and reveal another t-shirt with a quote saying "With Jesus, You'll Never Be Alone".
So yes, there are multiple ways on how we may spread the word, show our faith and practice it. These people may look far ahead of us, but ultimately they believe in the same God we believe in and they are not shy to show it. So how about you? Do you deserve a yellow card? Are you willing to pray and practice your religion openly?